RED RIBBON WEEK Wednesday winners! Camo Day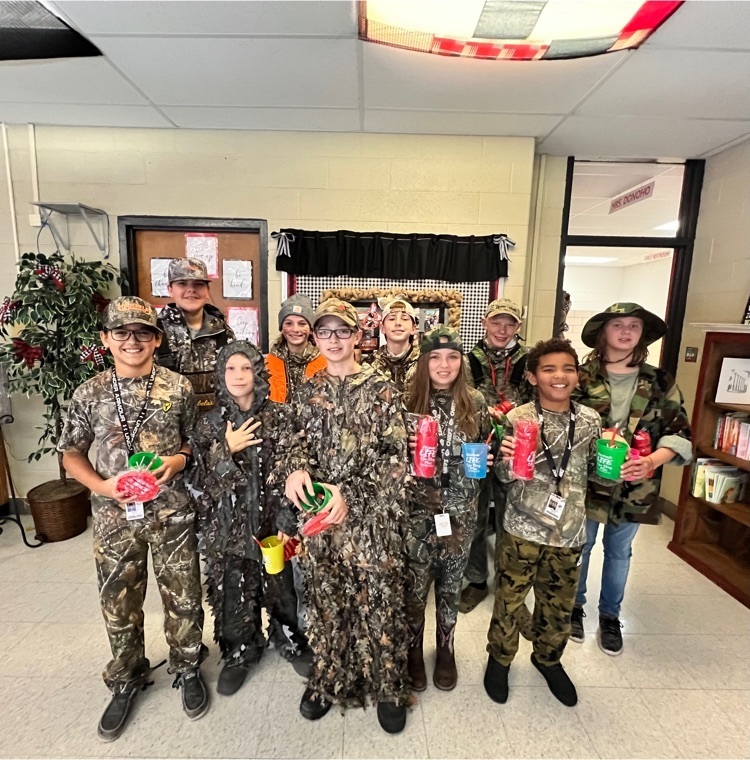 Congratulations to our 2022 Education Foundation Fall Mini-Grant winners from CMS!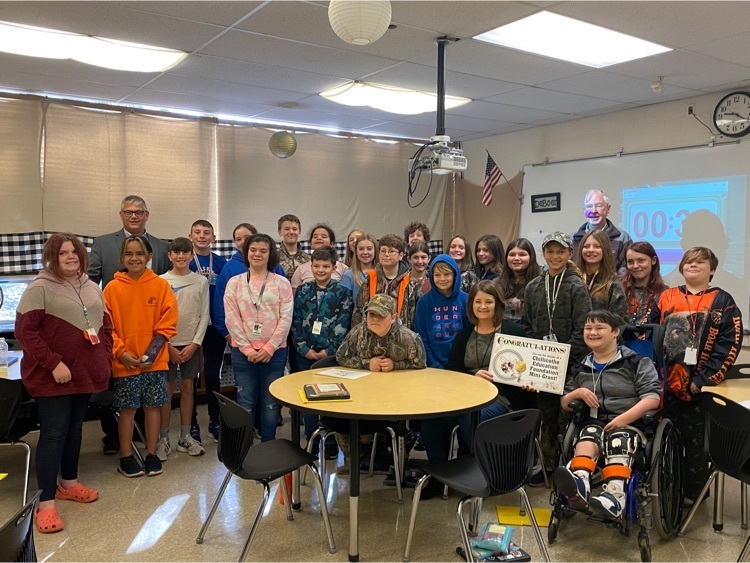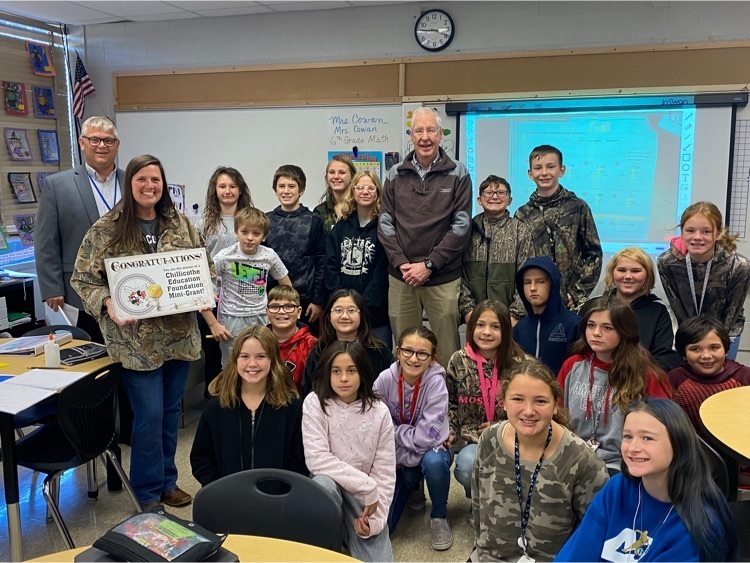 The R-II District is still short bus drivers this week. The next 2 mornings (Wednesday the 26th & Thursday the 27th) buses 12 and 17 will be picking up bus 18 students. Thank you for your cooperation! Please contact our offices if you know of anyone interested in applying to be a bus driver!
RED RIBBON WEEK Winners for Tuesday "Workout & Be Drug Free!"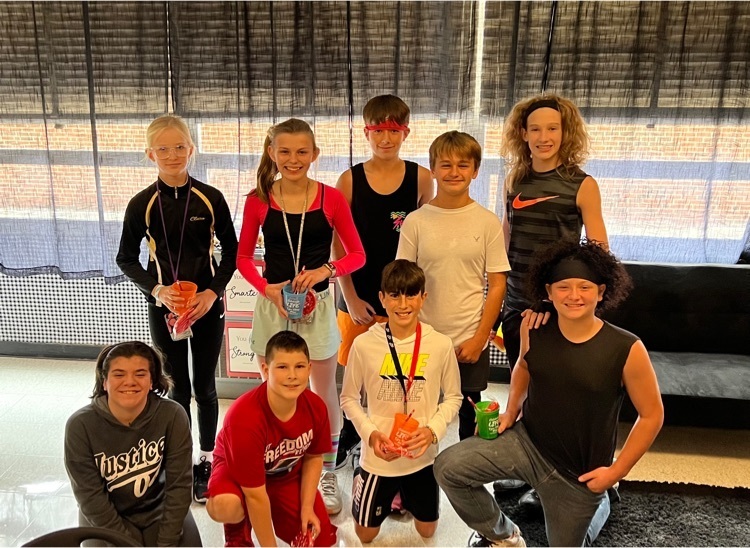 B.E.S.T. Staff Member this week: Mr. Korby Ford! Mr. Ford is always here for our students! Awesome job! #HornetsOnTop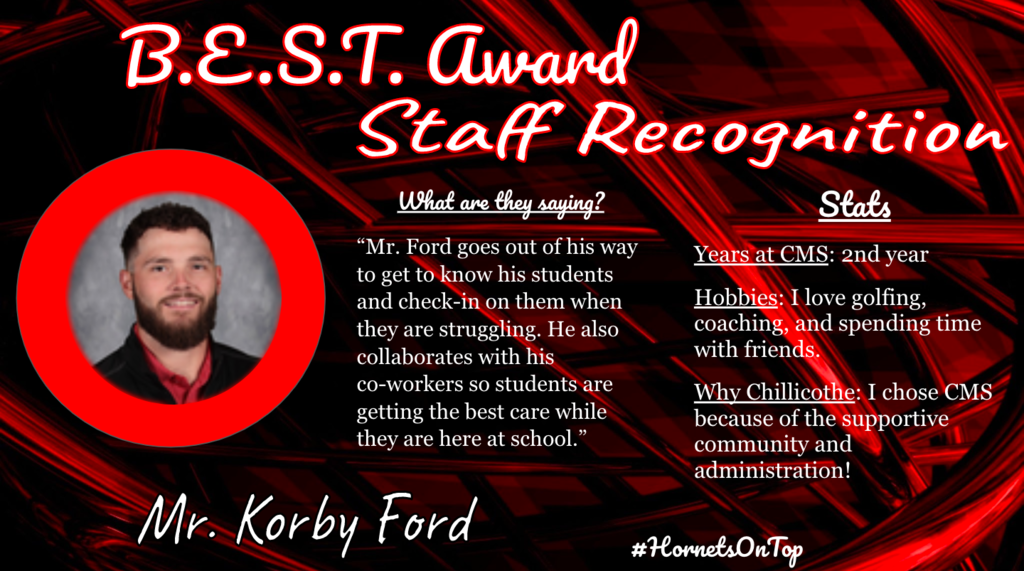 B.E.S.T. Award Winner this week: Dandy! Way to go! #HornetsOnTop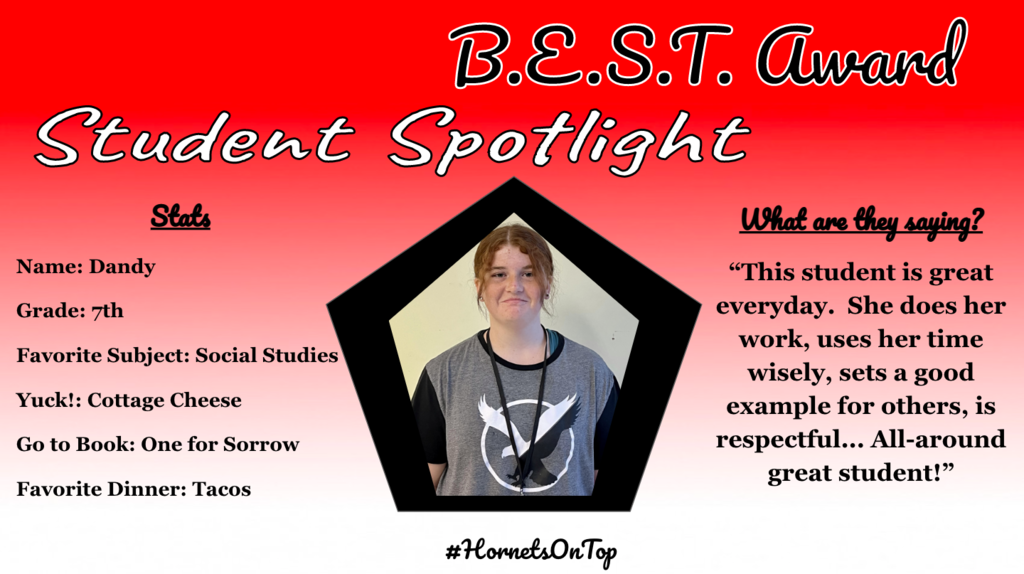 Here's just a few pictures showing what's going to be auctioned off tomorrow morning (Oct. 21st) at 10 AM in the Chillicothe High School parking lot! There's chairs, tables, kitchenware, vehicles, and much, much more!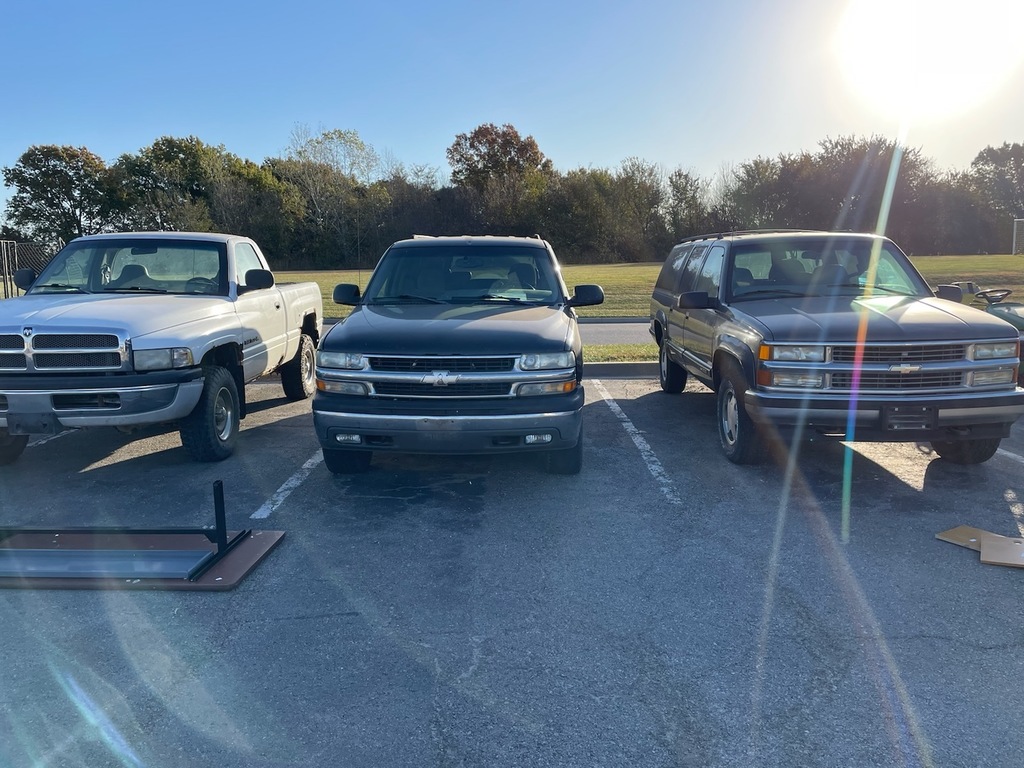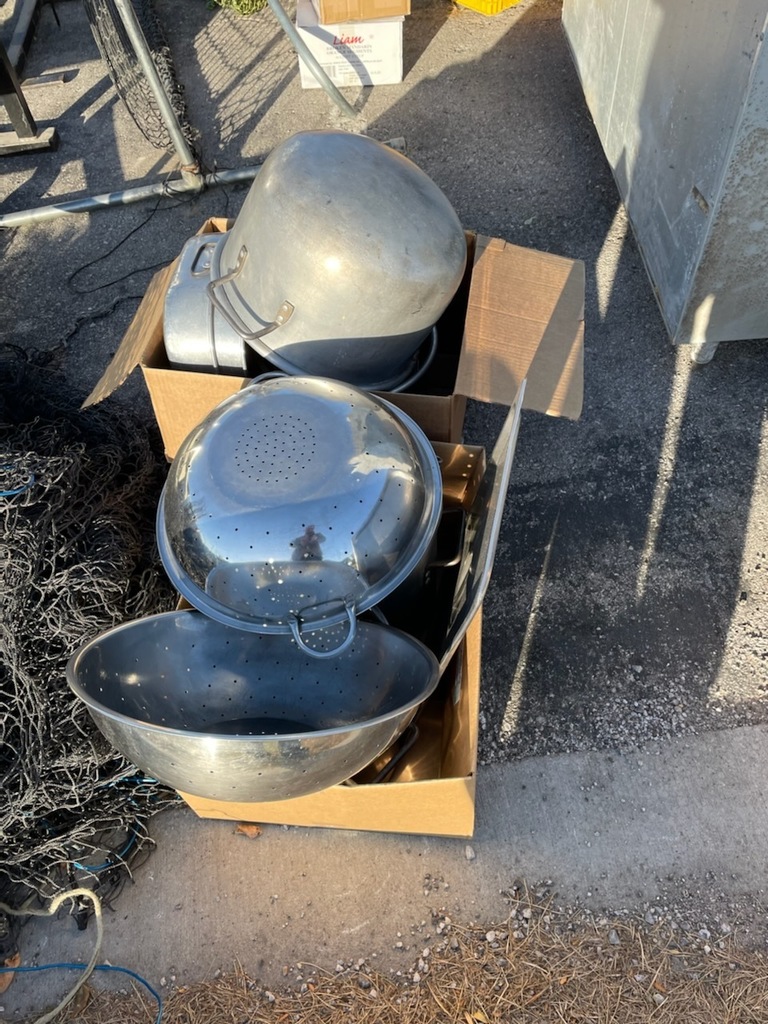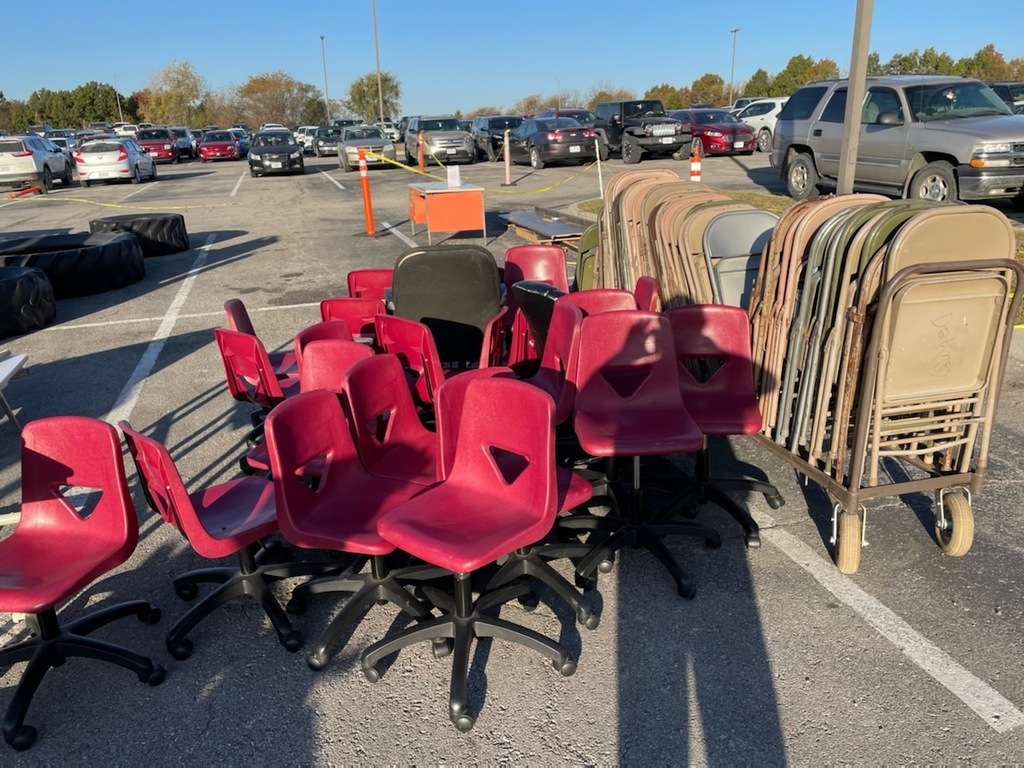 Don't forget, Hornet family!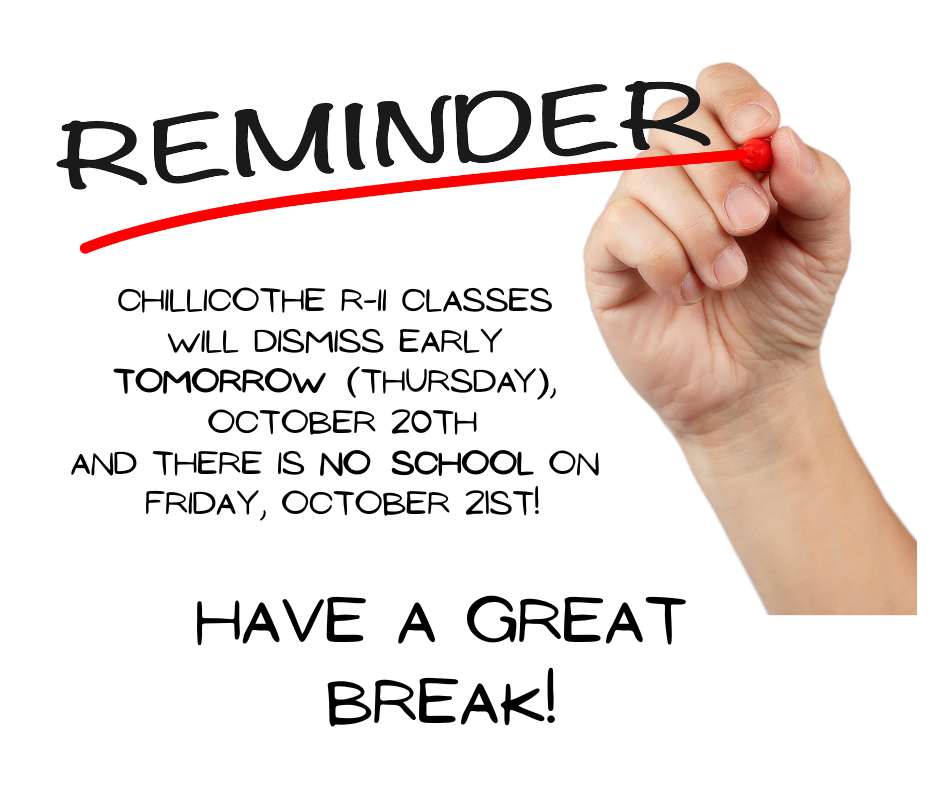 CMS will be celebrating Red Ribbon Week October 24-28th. Students will be awarded prizes for best spirit dress and we will have presenters during the week about making healthy, safe choices.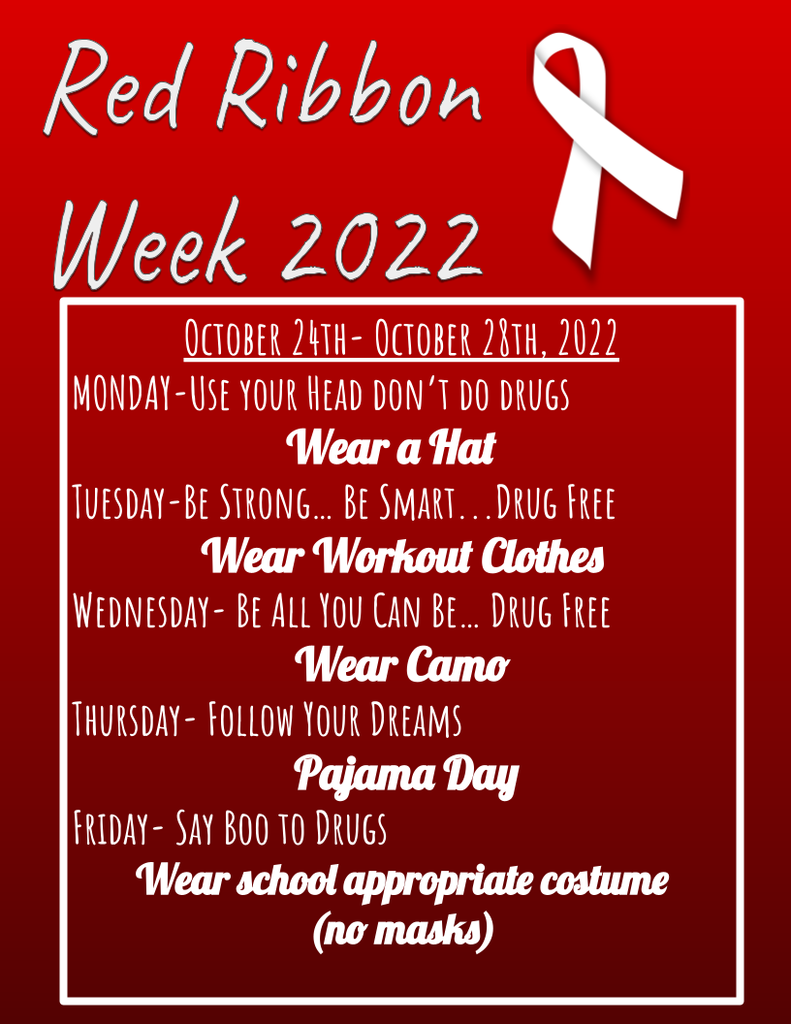 CMS 6th, 7th & 8th Grade Choir concert is this evening at the PAC. The concert starts at 6:00, students are asked to arrive by 5:40.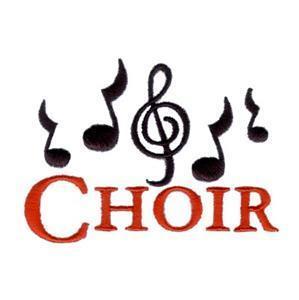 CORRECTION - CMS Wrestling is from 3:15-5 Girls Basketball will be 3:10-5:10 Boys Basketball will be from 6:00-7:30 am
CMS Wrestling practice will be from 3:00 - 5:15 at the Fieldhouse
10/13 CMS Activities Cross Country @ Warrensburg -- 4pm Volleyball V. Truman (8th Grade) -- 5pm ORDER OF EVENTS: 1) 8th Grade "B" 2) 8th Grade "A" Volleyball @ Truman (7th Grade) -- 5pm Volleyball @ Truman (7th Grade) -- 5pm
B.E.S.T. Staff Member this week: Mrs. Kathy DeBoer! Mrs. DeBoer is bringing it this week! Awesome job! #HornetsOnTop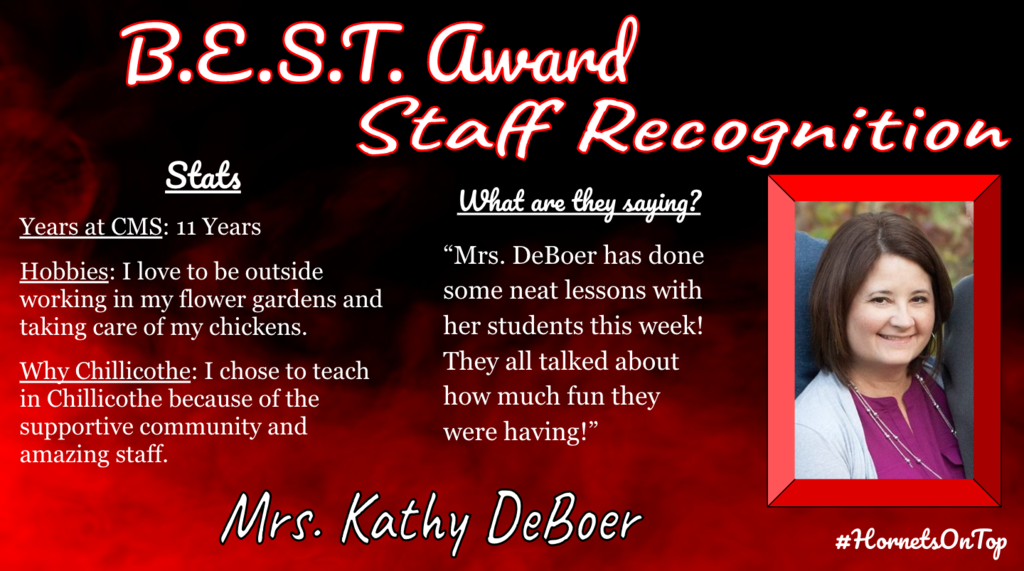 B.E.S.T. Award Winner this week: Harlea! Nice job! #HornetsOnTop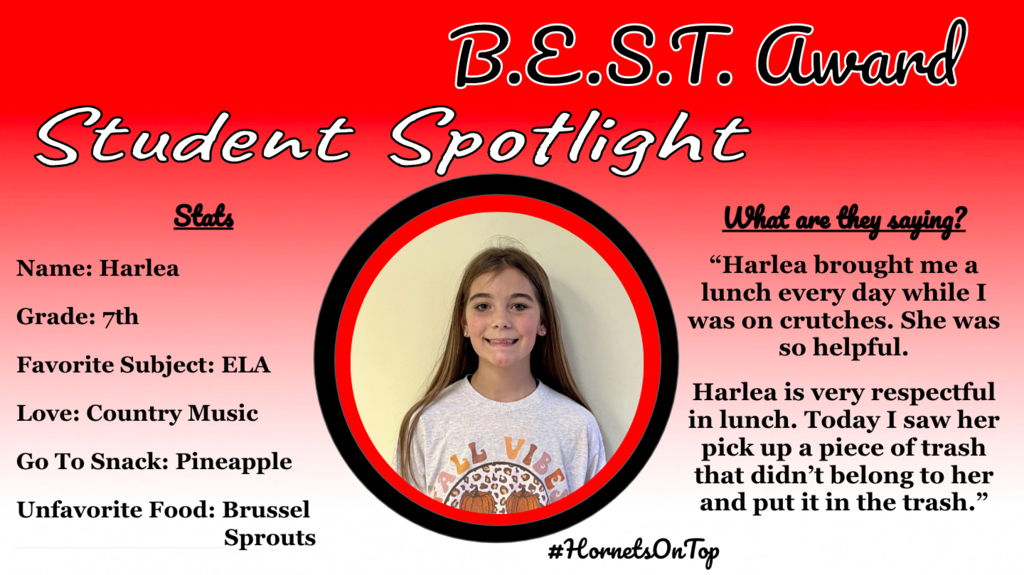 Congrats to our Cross Country on strong showings at Cameron yesterday in some slippery conditions! #HornetsOnTop Results Girls Team earned a 1st place finish! 3) Payton McGee 5) Indy Ulmer 11) Sophie Hurtgen 15) Adrain Caselman 16) Rachael Morris Boys 1st Place! - Lake Englert 7) Barrett Bowman 15) Smith Link 16) Keagan Menconi 17) Alexander England
CMS Football wrapped up their season with a visit to Kirksville. Lost game 1 & won game 1! Nice job guys! #HornetsOnTop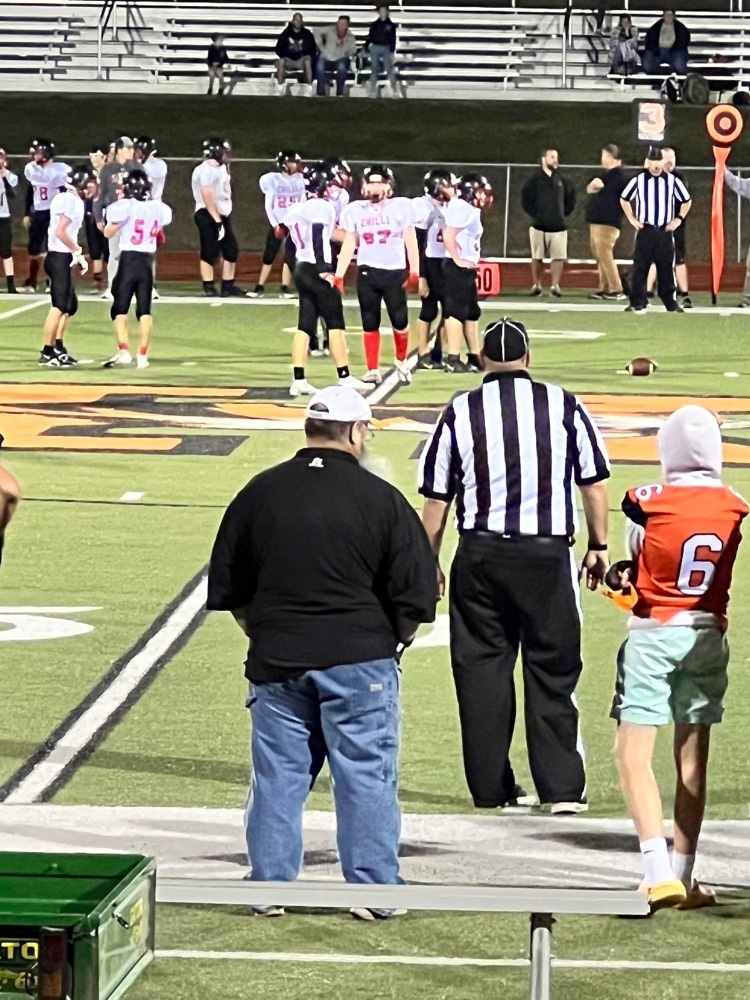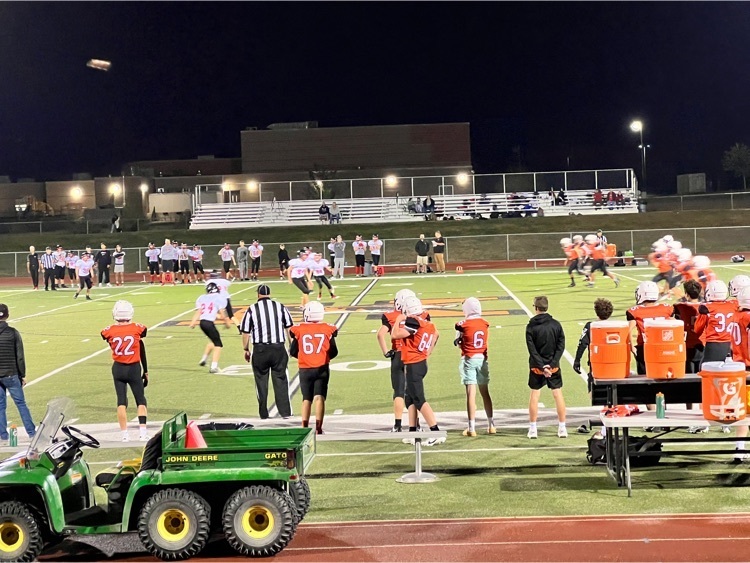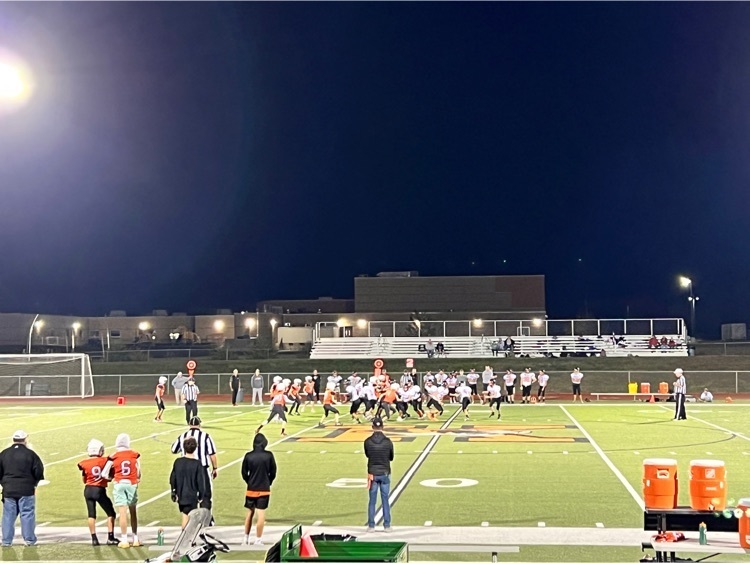 10/11 CMS ACTIVITIES Cross Country @ Cameron -- 4pm Football @ Kirksville -- 5pm Game Order: 1) 7th Grade 2) 8th Grade

Mark your calendar and join us on October 20th!
Don't forget about tonight's Band Fundraiser: A Feast and Special Performances!!! Do not miss out! #HornetsOnTop