EDIT MAIN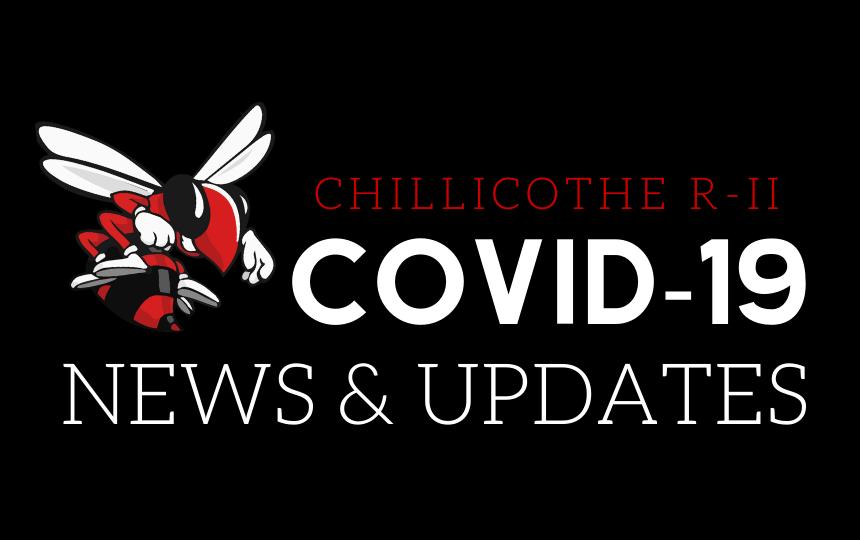 COronavirus (covid-19) NEWS & UPDATES
---
MARCH 17, 2020
The Chillicothe R-II School District, community volunteers and the Department of Health and Senior Services will be providing free meals during the COVID-19 school closure. Meals will be served to start Wednesday, March 18th. The current day's lunch and the next day's breakfast will be prepared daily Monday-Friday and are available to any person 18 years and under residing in the Chillicothe R-II School District. Two serving options will be available to families, 1.) Meals may be picked up at either Chillicothe Middle School or Field Elementary School. 2.) Meals may also be delivered to several locations (TBA) throughout the community for those without transportation.
Please follow the link and fill out the form if you are requesting district-provided meals from the dates March 18-April 3rd. We will continue to provide updates as needed through the district website and through text alerts. If you have any issues with the form and or questions/concerns, please call the Chillicothe R-II School District 660-646-4566 or email Dr. Zach McMains- zmcmains@chillicotheschools.org. Link to Meal Request Form: https://forms.gle/o4ESpJBQjKMoqZkf9If you are interested in volunteering to help deliver meals please contact Angie Cool- 660-342-4208 or impact@lifepoint-church.com
Respectfully,
Zach McMains
Assistant Superintendent
Chillicothe R-II School District
---
MARCH 16, 2020
Dear Parents, Patrons, Students, R-II Staff, Administrators, and Board
With guidance from the Livingston County Health Department, the Chillicothe R-II School District will cancel all classes beginning on Tuesday, March 17. The cancellation of school will last for a minimum of three weeks, with an anticipated return date of Monday, April 6. This action was taken to limit the spread of the COVID-19 Coronavirus.
In addition to the school closings, all extra-curricular events, practices, and use of Chillicothe R-II property for social gatherings have been canceled or postponed.
IT is important that our students remain engaged academically during this extended absence from school. School staff has worked to provide learning opportunities for our students. Many of the activities will be provided via Google Classroom (grades 6-12) and SeeSaw (grades PK-5). The district understands that not all families have access to internet services in their homes, and school staff has developed plans for those students to receive activities through home delivery or U.S. Mail Service.
The district is grateful to those who have volunteered to provide meals for students in our community during this extended absence. Look for details on the school web page, email, or local media, for additional details about meal deliveries.
Thank you for your patience during this unprecedented time. I heard this quote several times in the past few days, and it feels appropriate at thsi time. "In the end, it will be impossible to know if we overreacted or did too much, but it will be quite apparent if we underreacted and did too little."
Stay Safe Hornets!
Dan Wiebers
Superintendent
Chillicothe R-II School District
---
MARCH 13, 2020
Dear Parents and Patrons of the Chillicothe R-II School District:
I wanted to inform you that the district is evaluating the information we receive relating to the COVID-19 Coronavirus. As Superintendent, I appreciate the support of the Livingston County Health Department, the Department of Elementary and Secondary Educations, and the Missouri Department of Health and Senior Services. These organizations have worked to provide the district, and its patrons, information about the virus.
I have asked the high school and middle school administrative team to send students home this evening with their Chromebooks. I am not anticipating a school closure due to COVID-19 virus, but I would prefer that students have the needed technology at home in the event that school is canceled. If a long term absence occurred, the district would have the ability to implement an Alternative Method of Instruction. The district administrative team met today to develop our instruction plans and those will be shared if the need arises. Again, the district is not anticipating an extended school cancellation, but we want to be prepared to meet the educational needs of our students.
If you have any questions, please contact Dan Wiebers Chillicothe R-II Superintendent at dwiebers@chillicotheschools.org.
Dan Wiebers
Superintendent
Chillicothe R-II School District
---
MARCH 11, 2020
MO DHSS Website: The Missouri Department of Health and Senior Services (DHSS) COVID-19 webpage contains any and all COVID-19-related information for Missourians, and is updated frequently. DHSS has requested that school districts include a link to this webpage and its resources in any piece of communication they share with families or staff members. DESE officials remain in close communication with colleagues at the DHSS to stay informed about COVID-19 and the current situation in Missouri.
Click here: COVID-19 webpage
---
Additional Resources